Over time, exterior surfaces of buildings and walkways can accumulate layers of dirt, mildew, and other substances that can detract from their appearance and cause surface deterioration. Pressure cleaning is a powerful solution to restore these surfaces to their former condition, enhancing curb appeal and safety.
NCS provides high-quality pressure cleaning services using professional-grade equipment to remove the toughest of outdoor stains and build-up. Our trained technicians adjust pressure levels to suit various materials, ensuring effective cleaning without damage to your property's exterior surfaces.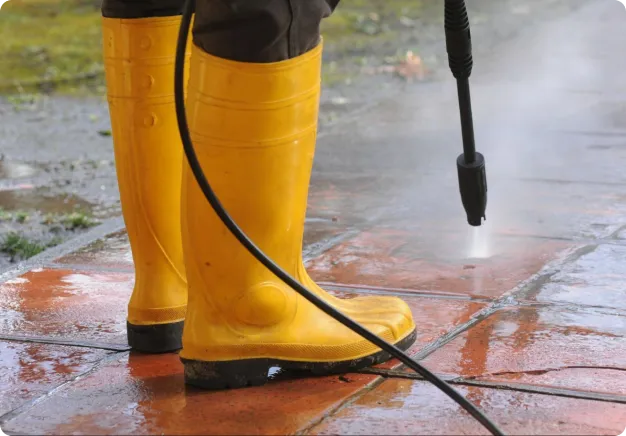 The Last Cleaning Company You'll Ever Hire
24/7 Service
Out Of Hours Cleaning: No Down Time
Industry Compliance Experts
Background & Police Checked
Full Public & Employers Liability Insurance
Fully Certificated On Completion
We are leading industry experts in commercial and specialist cleaning services. We care for clients throughout 
Victoria and customise our services to suit your individual facility needs.
What is National Combined Services?

NCS, founded in Victoria, is a top-tier Australian cleaning and maintenance service provider with over 14 years of experience. We cater to a broad range of industry markets across Australia, including rural areas, with a commitment to detail and client satisfaction.
What industries does NCS serve?

We serve various sectors such as retail, commercial, industrial, educational and health, supermarkets, club venues, hotels and accommodations, gaming venues, and provide vacate cleaning, among others.
How does NCS ensure minimal disruption businesses during service?

Our service commitment is tailored to meet individual client needs, ensuring new arrangements are implemented with minimal disruption. This is achieved through the effective management of personnel, partnerships, and adherence to strict policies and procedures.
What are the '3 Ps' NCS follows?

The '3 Ps' stands for Personnel, Partnership, and Policies. We focus on well-trained cleaners, strong client relationships, and comprehensive safety and operational policies to maintain high-quality service.
Can you detail the policies and procedures NCS implements?

NCS implements a variety of policies to ensure safety and efficiency, including site safety plans, emergency evacuation procedures, cleaning scope of works, and numerous safety procedures and records.
How does NCS manage risk?

We employ a 'cycle of risk management' approach to minimise exposure to potential risks. Each site is thoroughly documented and continuously reviewed to ensure the ongoing safety of all individuals present.
Are NCS's cleaning chemicals safe for the environment?

Yes, all cleaning chemicals used by NCS are environmentally safe and sustainable, reflecting our commitment to environmental stewardship.
Is NCS available for emergency services?

Yes, NCS offers services such as emergency flood damage and can be available 24/7 to meet urgent client needs.
What is transition management at NCS, and why is it important?

Transition management at NCS involves seamlessly transferring cleaning and maintenance services from a previous provider or in-house team to our experts. It's crucial for ensuring that our high standards of service are established without affecting the client's business operations.
What Our Customers Are Saying
Johns Lyng Shopfit Services Pty. Ltd. have used the services of National Combine Services Pty Ltd for over seven years Their ability to provide cleaning services nationwide and to meet all of our needs is vital to our business. National Combine Services Pty Ltd will be a great partner for years to come.
We are very satisfied with the level of service provided by National Combine Services Pty Ltd at our Castlemaine facility, which encompasses a large office building and factory area. The NCS cleaning personnel work to a very high standard and with a friendly, open communication. Inspections are arranged on a regular basis by the NCS managers at which time we meet to discuss matters at may arise. Flowserve Castlemaine Operations fully recommends National Combine Services Pty Ltd as a very proficient and professional cleaning services contractor.
I have used the services of National Combine Services Pty Ltd for over 5 years now I have found them to be a very conscientious company with a good eye for detail. They arrive on time com- plete the job to the required scope of works. We have very rarely had to get them back for rework even then they are about giving customer service and ensuring that the client is satis- fied. They are a well balanced company with exceptional communication and follow up a good working partner to have on board.